Upholstery hand tool
The list of upholstery hand tool is quite short which is a good thing. Apart from electrical tools such as various type of staplers and brad nailers, you will need just a hand full of tools. This is what we can offer you.
For cutting the tracks, best is to have a track cutter, a sharp one, with inscriptions for making different angles cuts. Here is a wonderful tool that might interest you.
For working with the fabric around the track, try getting a selection of spatulas. Our principal upholstery tool is Ergo or metal spatula. Both are just great. Then, there is a bay leaf spatula with a narrow blade. Finally, the forth spatula is in plastic for working by delicate molding. Use it at the end of the fabric installation when, the blade touches the frame.
To view our tools, go to the shop section, you will find everything you need.
We have added in this website pictures of fabric on walls projects. Most of them are from private residence. For example, we show walls in bedroom, dining room and more with all kind of fabrics. We give you answer to any problems you come across.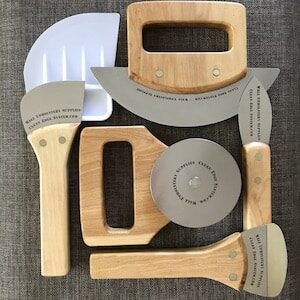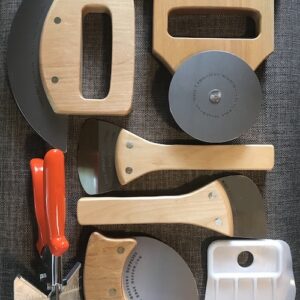 Wall upholstery tool kit
2 SETS OF FABRIC TUCKING TOOLS



Wall upholstery tool kit | Strong American Built | $250.00
Our catalog of products has a wall upholstery tool kit of heavy-duty items. The set of tools includes 2 fabric tuckers, one rocky, one speed roller, one bay leaf including a plastic spatula.
These 6 essential upholstery tools will do a job at installing the fabric in the track from start to finish.
Tacker tucks the fabric in place on a wall or into a panel.
The Angle Tacker reaches in less accessible places.
Rocky is designed for inserting the fabric after it is tacked in the beginning. Rock it back and forth for pushing the fabric in the track.
Speed roller provides quick and steady insertion of the fabric. A short video is available soon.
Bay Leaf helps you access tight areas.
A Plastic spatula works very well against delicate molding. Use it at the last stage.
Pro set of tools | Cutting and Tucking | $365.00
New PRO PACKAGE is the complete set of tools plus Fabric Metal Spatula and the famous Track Cutter
More information below.
Call 512-539-9743 to order. IN STOCK
Read more