We use upholstery tools every day for wall upholstery project.
All upholstery tools are selected for their strength, efficiency and durability. We do know how important it is to have reliable fabric wall tools in our hands. For this reason, VE THOMAN recommends installers and upholsterers to look at them carefully. This handpicked choice of products is perfect for installing wall upholstery.
We make them available to you. To see detailed description of each item and prices, visit the SHOP page.
Wall upholstery installation is a trade perform by a qualified upholsterer. And the fabric wall tools presented are good quality products. Therefore, possessing the proper upholstery tools is fundamental in making good work. The only wall upholstery products needed are as shown below.
The famous and best selling tool
We believe each installer should have a track cutter in his toolbox and one in the workshop. It is a powerful hand tool which has 3 great features. The cutter has a sharp blade, a long platform and a system of leverage making any cutting job so easy. You also will find the cutter useful for various applications. It is a very good investment and an important piece to have for cutting all the lengths of tracks. At the end of the day, I guarantee that you will like it so much more than other brand you have tried in the past.
So, you don't need to take out a miter saw on the job, no dust, no noise. The only sound to hear is the click of the blade. What we really like is you are able to make very small pieces at whatever angle you wish.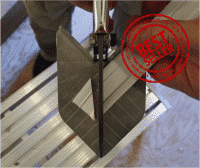 Conclusion, the waist is minimal on a job. Actually, we seldom put pieces of tracks in the trash. There is always a little place to use a few inches of tracks, like around a molding or a vent.
If there is one tool to get, I would say definitively the track cutter, then the spatulas.
The second most important upholstery tools: Spatulas
These spatulas are very practical during the process of installing fabric on walls.
Fabric metal spatula has a special plate design for fitting the fabric in the track system. We make them with a straight or a more ergonomic handle. They equally do a good job.
The second is bay leaf spatula which works very well in tight spaces.
The third named plastic spatula works as well on the track but just at the end. When the fabric is trim close to the molding exposing edge. This spatula does not damage these edges.
Another really neat tool is speed roller. It is not a tucking tool like others. The rolling wheel runs fast pushing the fabric in the track at the last stage. This fabric on wall tool works in straight line. Like all tools for should be careful if you have very fine fabric. Like any tools, it is always best to test with delicate cloths.
To summarize, we have altogether 5 items which a sold separately. One cutter for cutting the tracks to the desire length and 4 spatulas working along the tracks. Now that you know all the fabric tools, you can see videos on each item. We have a series of video taken during a fabric installation. Let's look at these 6 powerful hand tools.
We have recently added a Deluxe upholstery tool kit. It includes 5 new great products. A Deluxe package made for busy wall upholsterer.
The tool kit is the top of the line in wall upholstery products. These 5 items are design and built strong by the owner. They are one of a kind tools created exclusively for wall upholstery. Then we include the plastic spatula too.
To sum it up
The wall upholstery products mentioned above are chosen for installing a very unique track system. Some of you have already upholstery tools which is fine. But, remember we got everything for you ever need it. If you wish to save yourself some time and effort, consider checking them out. It is time well spend!
Go to our Houzz page to see more info or on our Facebook page. All projects presented have in commun this exclusive track. And each room has fabric fitted with these upholstery tools. We also have a channel on YouTube.