Precise and sharp upholstery cutting tool
No doubt, this sharp upholstery cutting tool is the best product for the job! It cuts through wall upholstery tracks so easily.
This is the tool to have and keep close to you. Everyone want to borrow the track cutter from you because it does the work with precision and fast.
Trust us, the first time we use this tool we could not believe how easy it was to cut. But what impressed us is the clean cuts. If you consider achieving very good corners, you need a good cutting tool. Beware of tools who looks like this one. Check out at the mechanism closely.
How to cut the tracks?
If you wish to see it working visit YouTube. There is a video and much written information available this product right here. We do recommend the track cutter tool for many reason explain in this page.
In brief, we have done all the research and trial for you. Therefore, you do not have to keep looking. We believe that you will enjoy very much.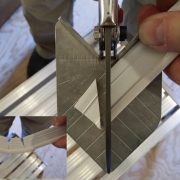 Cutting for years
In fact, I got my cutter over 5 years ago and It still cutting wonderfully. It is comfortable to hold, easy to use, and accurate. Besides what I do like is the little pressure needed to operate the cutter.
For years we have cut all our lengths of CES tracks, angle brackets or Contour wall system.
Not to mention the Big Boy too. To conclude, all tracks up to ½" in thickness.
Now you have seen our cutter, let's look at the track on this picture, the wall upholstery track system CES.
Sorry, no results were found.