Electrical outlets riser
This simple product raises a light switch cover that fits around electrical outlets plates. The general idea is to keep the fabric flash to the wall. So, when a cover plate goes back over the outlet, then the fabric stays flat.
Our wall plates riser are invisible as they are behind the fabric. The advantage is that your wall upholstery will look really good including the light switch outlets.
Stop spending time messing around with strips of wood. A product like this one will make your wall upholstery going so much faster.
Our outlet plate compensate for the depth of the track and padding. Therefore, the fabric remains evenly stretch on the surface without sinking into the wall. Check out this product in the shop page. Also, a very short video is available called fabric around outlets.
Plates are sold by the piece. They are single and double plate. For larger light switch outlet, please read instructions in the product's page.
Handy wall sconce plates
At the same time, we have a plate specially made for wall lights. A sconce fits onto the plate without a problem. In fact, it is wide enough to accommodate most lights. One installed a sconce will be at the level of the fabric wall.
The good news is if there are ceiling lights, they will work too.
How to fix one?
Just place it on the edge of the electrical box, then use a brad nail gun. Of course, fix a plate riser before the padding. It takes 10 nails to fix firmly on walls or on ceilings. And, to install one plate, it only takes a few seconds. So, it's worth your time, go and check them out.
Finish the fabric installation. Snip the fabric and bring electrical wires out. Attach the fabric to the inner edge of the plate. Connect to the light fixture. Then, screw the light backplate to the compensation plate. But let the electricain do the wiring.
To sum up when you visit a job site, remember to look for outlet or other devices. Get your supplies of wall plates for your next upholstery project. It is always best to have a few in stock! Lastly, a video explains how to fit a fabric around electrical outlet plates.
If you like them, let us know. Visit our Facebook page and leave a review just there.
We do have other interesting products, next step will be to see all wall upholstery supplies. This website has all you need from tracks to tools and accessories too.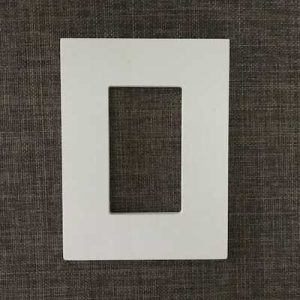 Compensation Switch Plate
Compensation Switch Plate | Sconce Plate
Outlets need to be raised at the same level as the fabric. To avoid plate covers from sinking into the wall, we highly recommend getting a compensation switch plate or sconce plate.
These are specially created and designed by Clean Edge System to make quality installation.
Furthermore, an outlet plate saves precious installation time. 
For your convenience, we have two different sizes; single and double plate.
For multiple switches, use the double plate, cut in half vertically, add a piece of
compensation stick
in between to make an extend plate. 
⇐ 
Look at the thumbnails pictures.
How to install?
 Watch the
video
 on Youtube or just below.
Single plate: $4.00 each
Double plate: $5.50 each
Sconce plate: $5.50 each
For further description, read about compensation switch plate below. 
Call to order your wall upholstery supplies at 512-539-9743
Read more